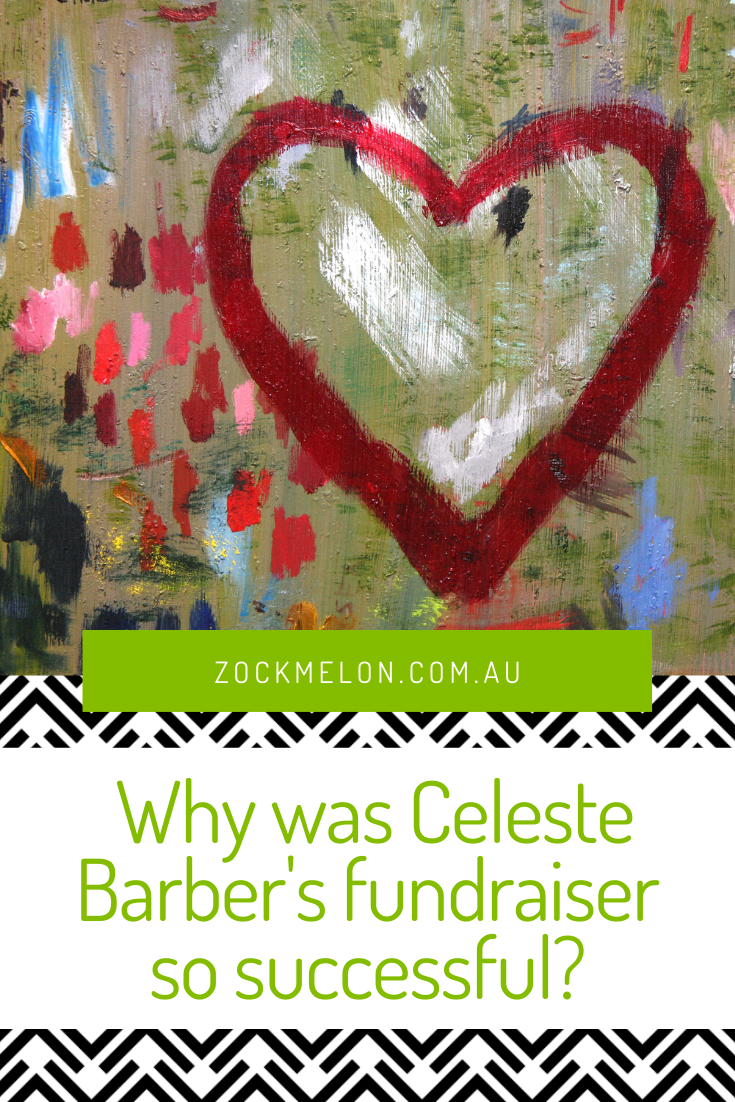 It's been fascinating and heartwarming to watch the incredible fundraising efforts of Celeste Barber – $40 million in 4 days, at the time of publishing this article the amount is over $50 million. It's been confirmed that the fundraiser is the highest in Facebook's history.
Why has this particular fundraiser been so successful?
1. Facebook fundraising tools make it easy.
You don't need to leave the platform to donate, it's all connected through PayPal. Unlike sharing an external link to a donate page which can be pushed down in the algorithms, Facebook loves it when you use their tools so will show it to everyone.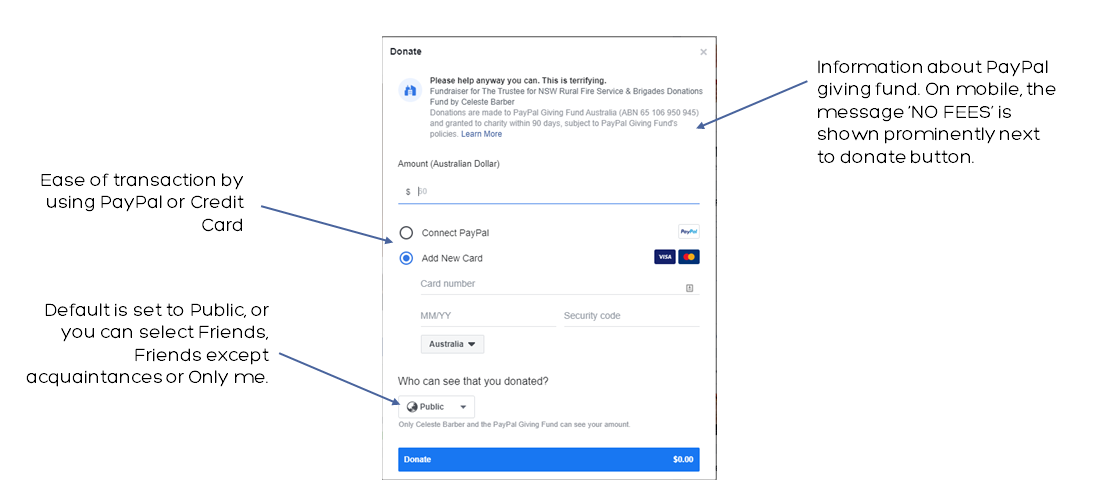 I also received notifications (pictured below) prompting me to donate after I had clicked on the donate link to prepare this article.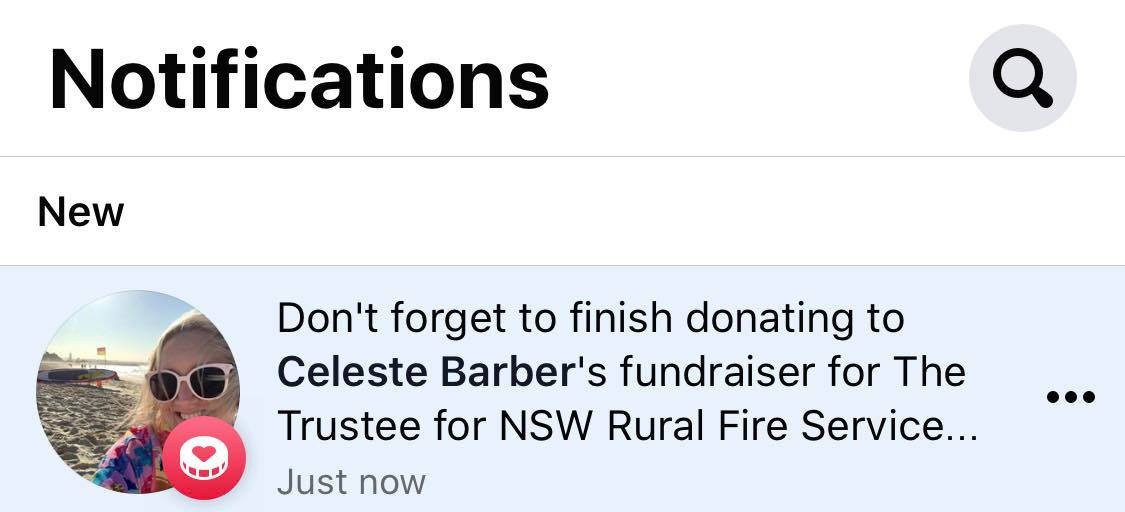 2. Social proof.
We all want to be part of something bigger than us. Even though the $20 you donate directly is the same $20 you donate through Celeste's appeal, it feels exciting to be part of a record-breaking fundraising effort that's making headlines. Social proof was also at play every time I saw a notification that my personal friends Jennifer, Leigh, Dean, Amanda… all donated to Celeste Barber's fundraiser I thought I should probably do that too. It's all baked into the Facebook tool (see point 1). In one screenshot (below) I have circled four points of social proof reminding me that everyone else is donating so I ought to as well.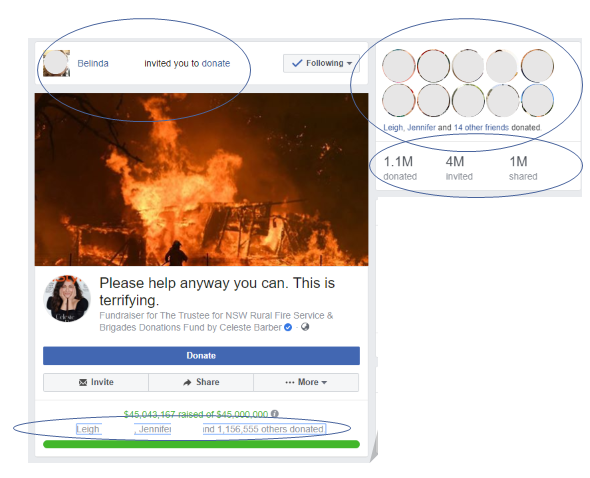 3. The celebrity power of Celeste.
I can't think of any reason why someone wouldn't like Celeste. She's funny, relatable, trustworthy and accessible without any explicit party political biases. She showed leadership when Australian's were looking for it. The hashtag #CelesteforPM started trending on Twitter.
4. We thought the funds would be dispersed Australia-wide where needed.
This is an important point. Celeste's fundraiser is directed to the Trustee of the New South Wales Rural Fire Service but we were told via her social media platforms it will be going to other States and worthwhile causes too. The way fundraisers are set up on Facebook is that the money goes directly to the recipient's PayPal account (or if they don't have a PayPal account a cheque is posted). At the time of the fundraiser, three Australian States had serious fires, including my own State of South Australia. Whilst South Aussies are generous, I have never seen a South Australian donate to NSW when our own State is going through the exact same thing, but the communication of the funds being dispersed to other charities seems to have gotten through – see point 3 above about Celeste's trustworthiness. The issue is, I'm not sure how this will happen, in fact this article about diverting donated funds suggests it will be difficult legally to make a case for dispersing to other charities. You can read further media speculation about it here.
How will this mega-fundraiser affect Facebook fundraisers going forward?
This fundraiser has brought attention to the power of Facebook fundraisers which enable all Australian ACNC registered charities with DGR status to have fundraisers created on their behalf. This could be you at your next birthday, or it could be a celebrity with huge star power. More people have learned that there are no fees to donate and neither Facebook nor PayPal take a cut – it all goes to the charity.
Time will tell whether something as big as this will result in giving fatigue, and how other non-fire related charities will position themselves in a period of crisis when they rely on fundraising for their everyday efforts.
I'd love to know – did you donate to Celeste's fundraiser or another one? What prompted you to choose one appeal over another?