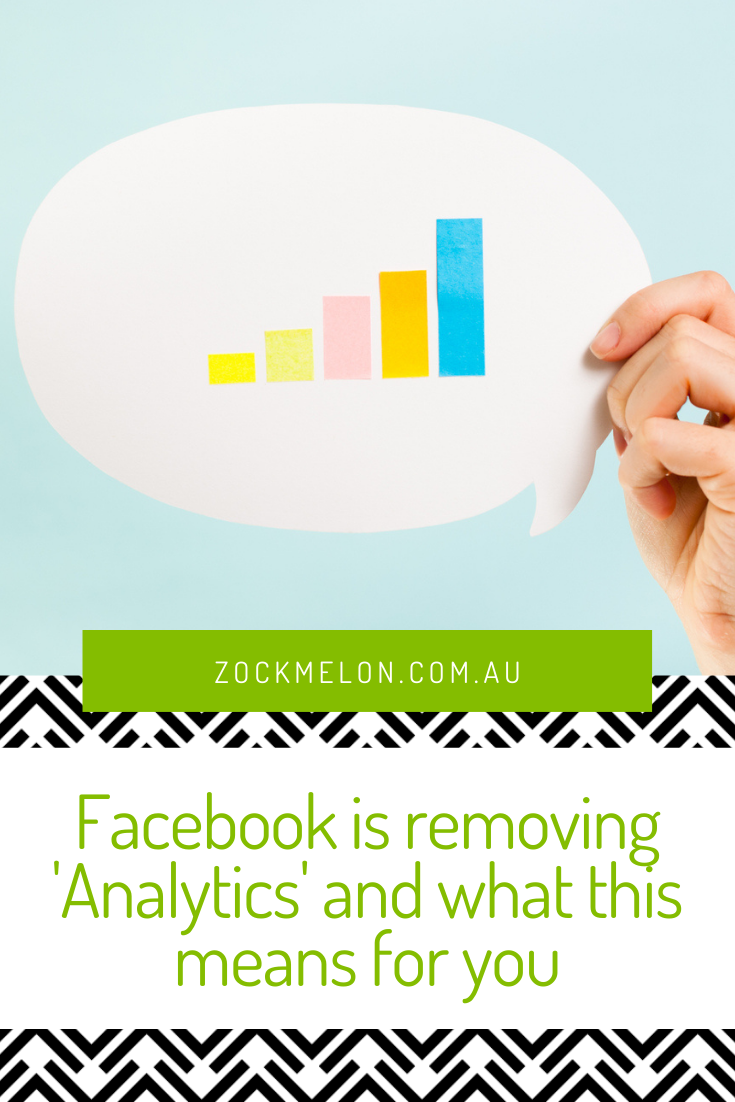 The announcement
Facebook has announced they are removing their stand-alone Analytics tool effective June 30 2021. Cue panic! 
What does this mean?
I have had a number of clients contact me who are concerned about losing access to their important data.
My interpretation of the announcement is that this is just the loss of this quirky 'analytics' area (found at facebook.com/analytics) NOT the main Insights area. In other words, it's not the loss of analytics altogether, just the one tool that's not often used. This should bring you a sigh of relief.
Image :  Screenshot of desktop menu for a Facebook page showing where to access Page Insights, April 2021
I've spent many years working with organisations on how to determine and use analytics that are purposeful, and disappointingly there isn't any more information at present on exactly what the changes will mean and what the implications are for other sources of metrics, e.g. the 'Insights' area.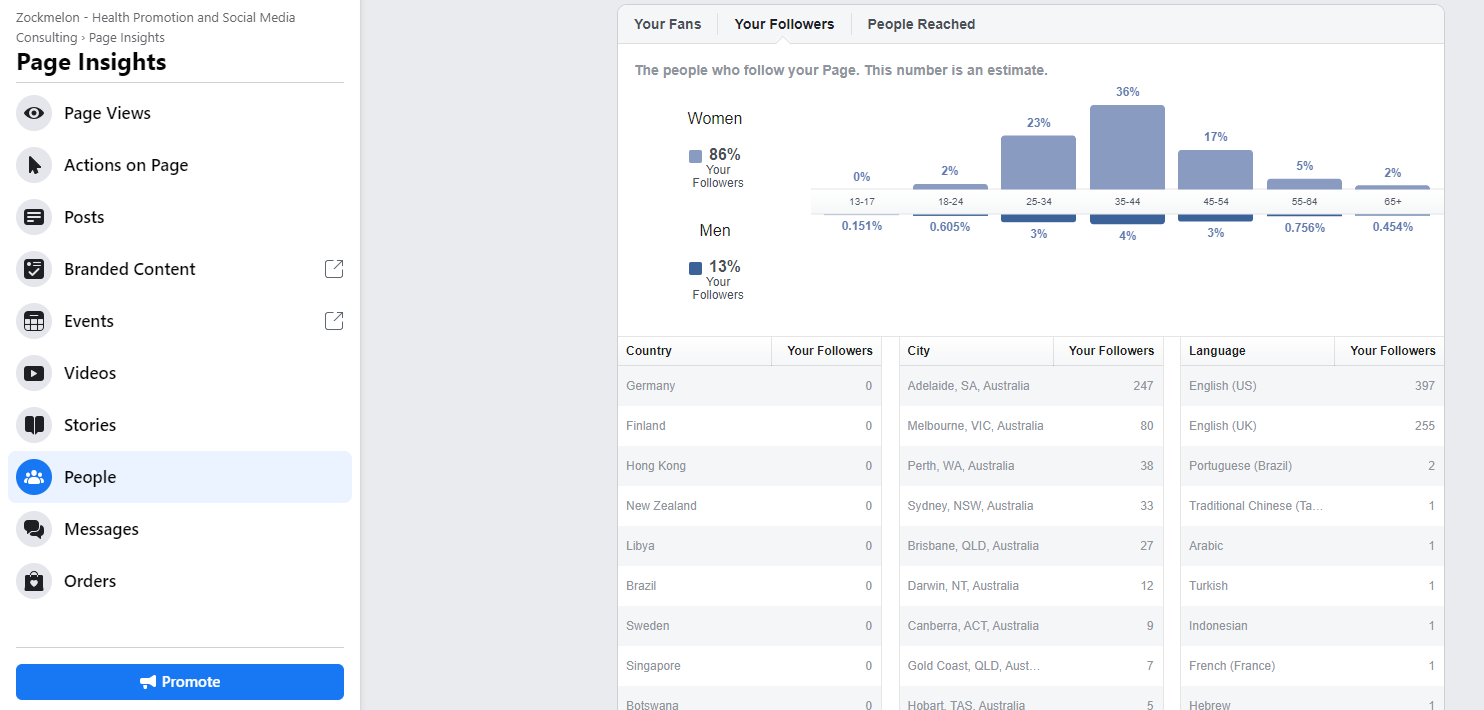 Image : Example of Facebook Insights in the 'People' category April 2021
Why are they doing this?
Facebook is a business and have every right to make decisions about their products. That said Facebook has shown repeatedly that small pages and not-for-profits are not their priority, grossly misunderstanding the relevance of these accounts to their mission of "building community and bringing the world closer together". I work with organisations that are nervous about spending a few hundred dollars on ads. Facebook will take your money but they don't really prioritise your needs when making platform improvements.
Facebook also want all page owners to be using their Business Suite product as the engine room of Facebook page management. Personally, I like Business Suite and some of the new features in there such as the options to schedule and plan content across Facebook and Instagram, so I remain cautiously optimistic that in time they will just transition their existing Insights we all use and love, to their Insights section in Business Suite. My optimism has been crushed before.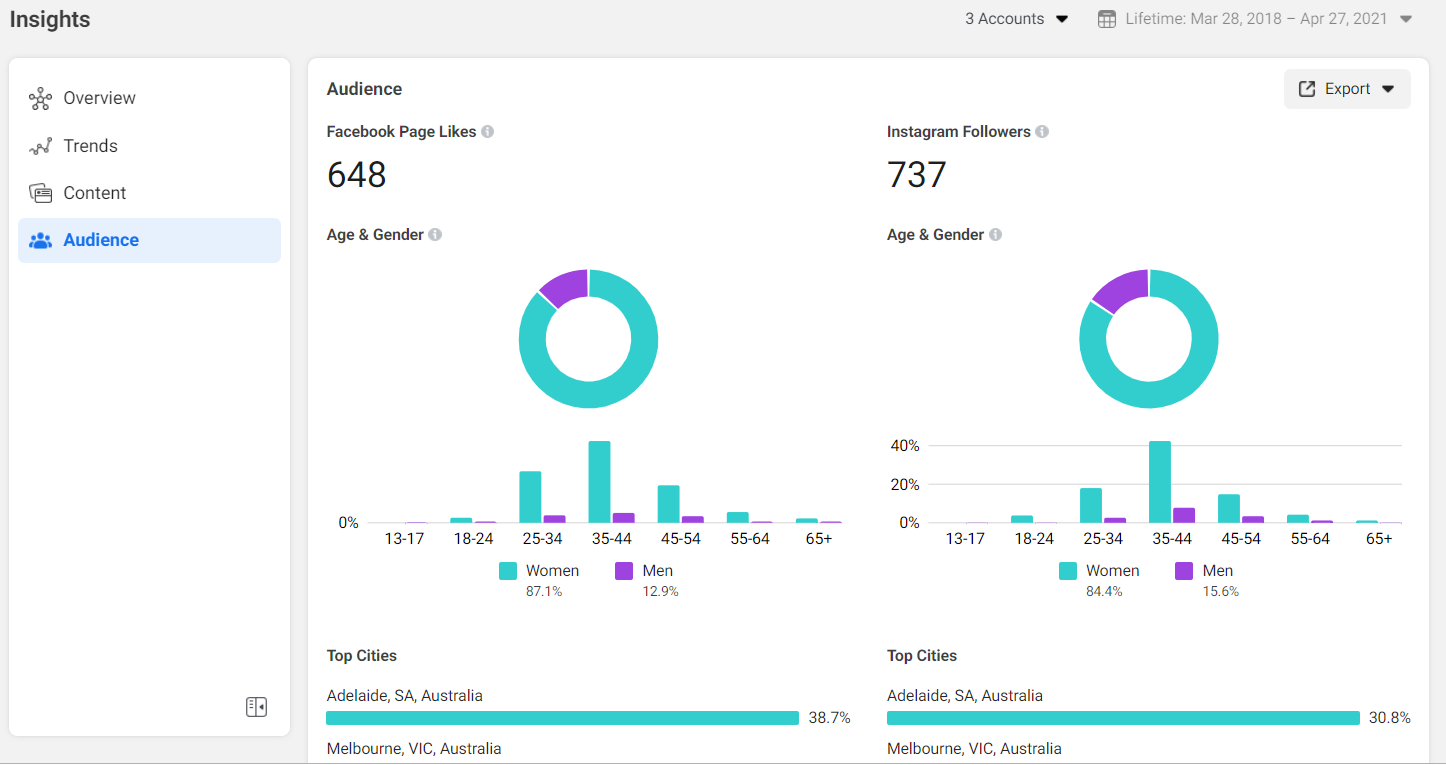 Image : Example of Insights currently available in Business Manager April 2021
It's also been speculated that there may be some privacy concerns they need to resolve by reducing the amount of analytics available.
What analytics do you even need?
One of my favourite quotes is "Not everything that can be counted counts, not everything that counts can be counted". 
In other words, we know that sometimes it's tempting to use every single metric available when it's not necessary, and we know you have much more impact than can be gauged through your social media analytics.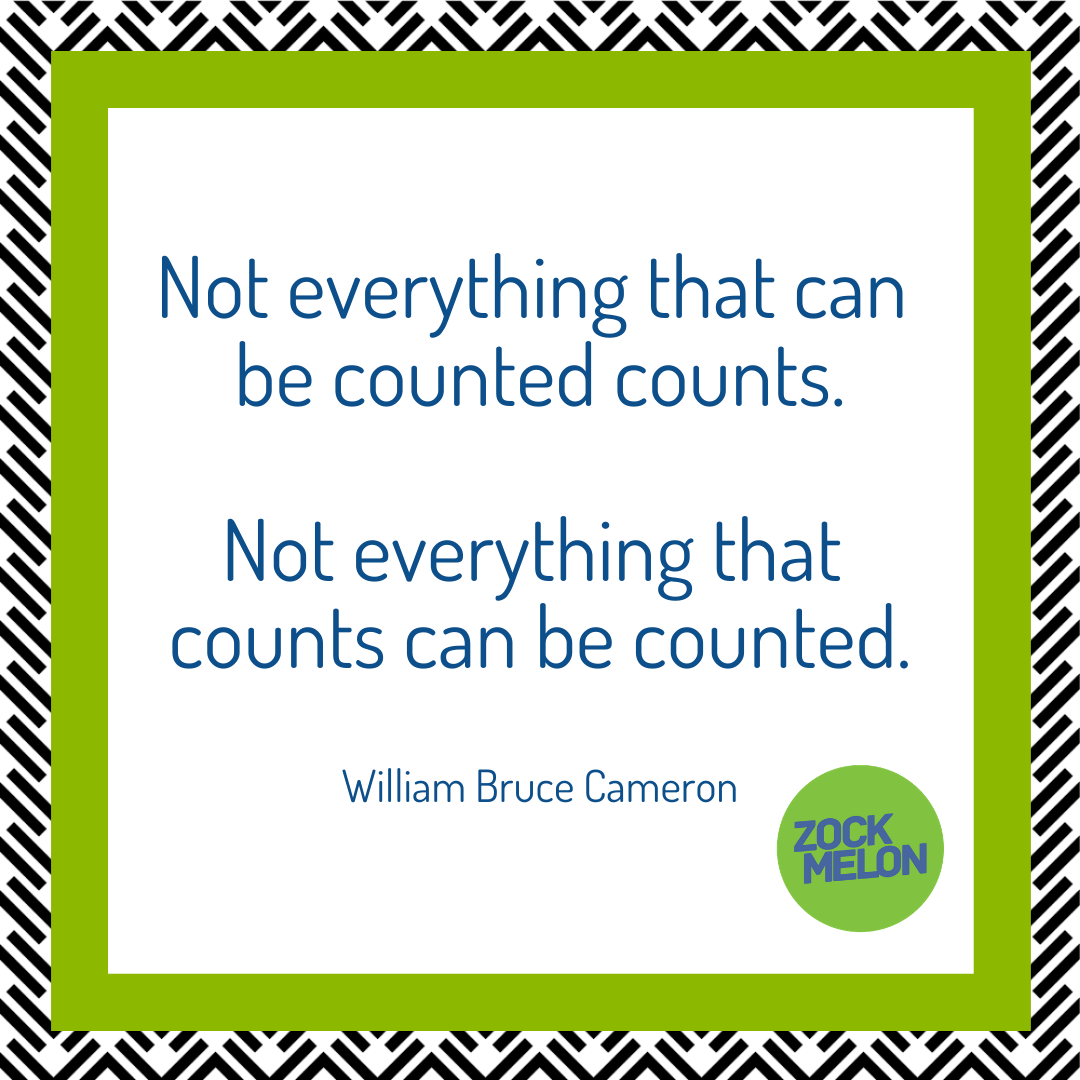 The aim should always be to only spend time looking at the numbers that matter and to interpret those numbers to make improvements to your work.
In the health, social and community services area, most work is focused on impacts that are almost impossible to measure through social media metrics anyway. E.g.
Changes in knowledge, skills or awareness

Changes in behaviours or attitudes

Changes in service attendance

Changes in community capacity
No social media analytics will measure change at this level. I'm not saying social media can't contribute to these changes occurring, I'm saying it's almost impossible to use social media metrics to indicate a contribution to said changes.
Social media analytics work best at the 'process' level, typically reach, quality or engagement. 
You can use social media analytics to answer some of the following questions:
Reach questions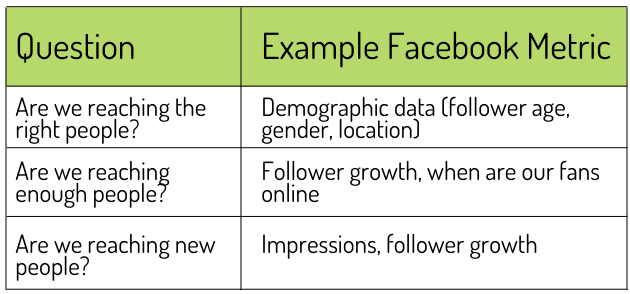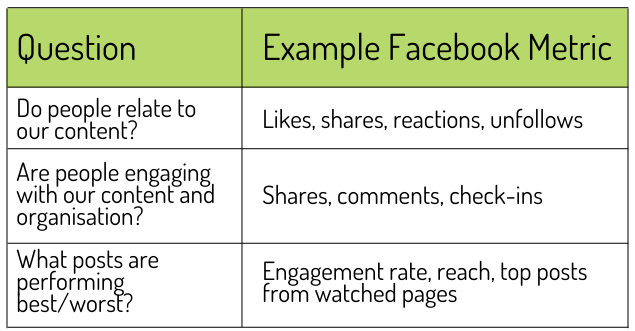 The key steps to determining what you need to measure are:
Identifying your goals

Clarifying the questions you need to ask about the progress towards those goals

Choosing the best available analytics to answer your questions

Report, review, make changes, and repeat!
These steps are true for any social media platform.
What should you do next?
Here are the steps I recommend between now and June 30 2021:
Revisit your business/program goals and re-assess what metrics you need to measure these.

In June, before June 30 – export and save your Insights data as CSV files for Page, Post and Video data types. Data exports are limited to 180 days so you may wish to do a few exports of previous quarters…just in case!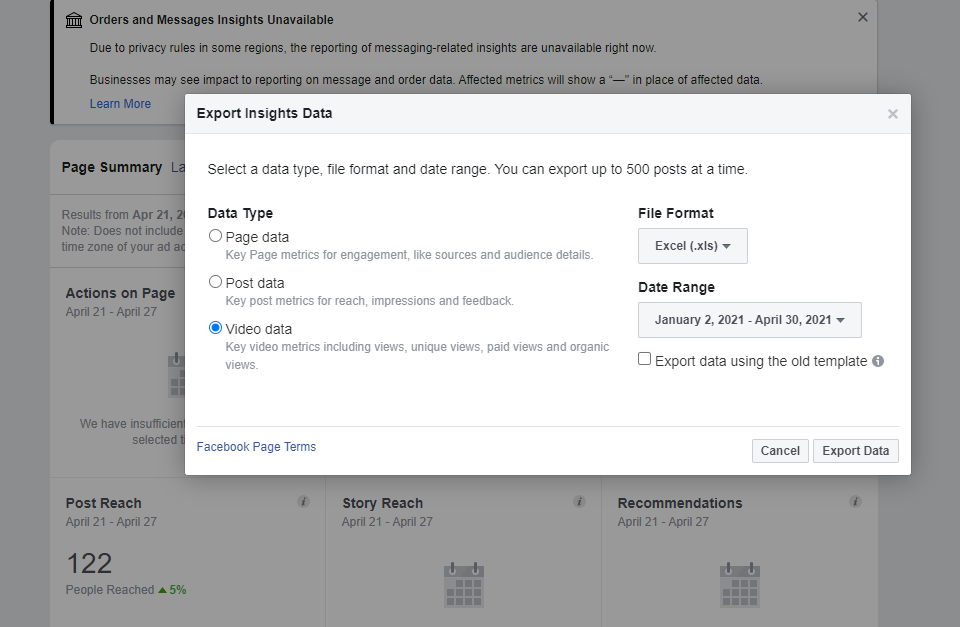 Image : Example of Facebook's Insights 'export data' options, April 2021
Take screenshots from your analytics page as it currently looks. Label well, perhaps even documenting screenshots in a simple report.

Inform your managers/stakeholders/board of a potential change to Facebook's analytics tools and the steps you are taking. Let them know you are keeping abreast of the situation and will be moving to Business Suite, but there may be changes in how you report metrics going forward. Send them this blog post for more information.

Start using, or at least familiarising yourself with Business Suite on Facebook knowing that Facebook wants everyone and every aspect of Facebook use managed all on Business Suite
If you need any further support or advice on your goals and metrics, please get in touch to arrange a session together: [email protected]